The Retirement Living Council is a specialist division of the Property Council of Australia. Together, both entities represent a large number of retirement community owners, operators and developers, plus associate members with a direct interest in the retirement living sector.
We are dedicated to proactively generating greater understanding about the exceptional lifestyle opportunities retirement villages provide for older Australians and the positive impacts they have on our communities.
The over 65 cohort is growing at double the rate of the rest of the population, and life expectancy is rising for men and women. Villages provide fit for purpose housing that enables people to live as they desire post retirement.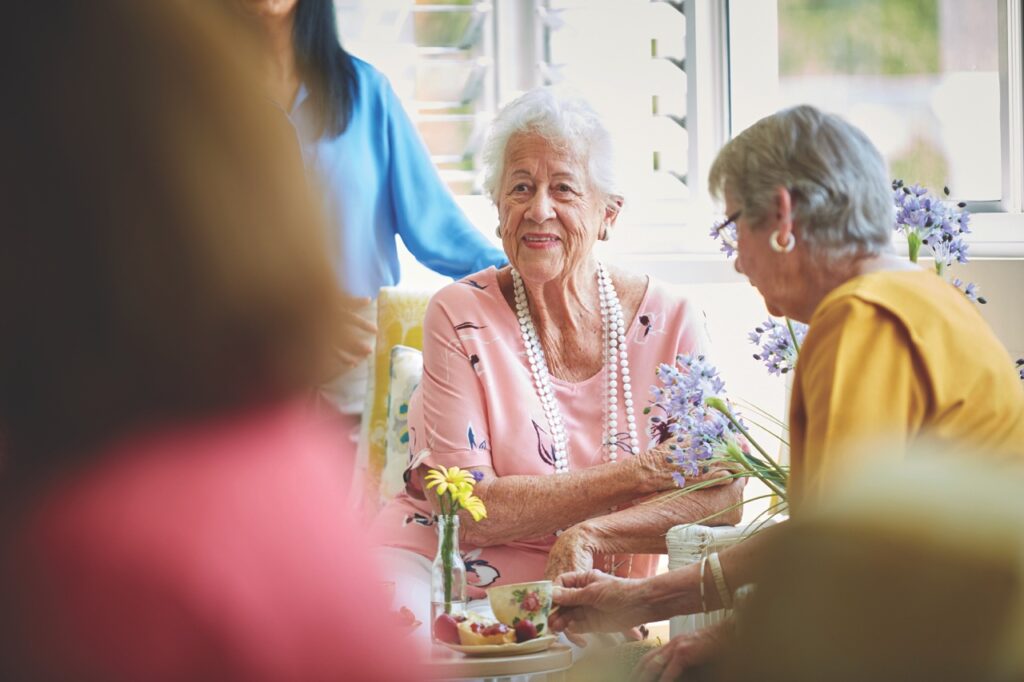 Retirement villages are not new. They have been a part of the accommodation mix for older Australians for a very long time, but have gained popularity and market variations over the past 30 years.
It could be argued that retirement villages have been around for centuries. Royal Freemason's were providing cottages for older Australians back in 1860. The house "Morven" at Morven Manor was built in 1888 and in 1951 "Morven" was purchased by the Brotherhood of St. Laurence as a holiday home for elderly people needing a change of sea air. In 1980, Morven Manor was purchased to establish one of the first retirement villages in Victoria.
As the industry grew in size, the need for an authority body became prevalent when after an informal meeting in 1982, the first retirement village association was formed in Victoria and was officially incorporated in 1986.
In 1987, New South Wales formed an association and the first combined meeting of the two state associations was also. This led to a conference that was held in Sydney in 1988 with representatives from both Victoria and New South Wales.
Tony Baldwin and Bruce Walker were the first presidents in New South Wales and Victoria respectively and Queensland and Western Australian associations were established soon after, followed by South Australia.
The Retirement Village Association (RVA) was established in 1989 to act as the peak body to represent the interests of retirement village owners and operators across the country.
In 2002, the RVA was incorporated for the purpose of establishing a single national association. All existing state associations gradually folded their activities into the one association and the RVA became a truly national organisation.
In 2012 the RVA merged into the Property Council to become a powerful force for industry as the Retirement Living Council. Today, the Retirement Living Council and its representative members in the Property Council is the single voice representing retirement living providers who offer an exceptional lifestyle currently enjoyed by more than 184,000 Australians.
These corporate partners contribute to the Retirement Living Council and the industry every day. Our research, advocacy and events activities would simply not be possible without the contribution from our valued corporate partners, many of whom are long-time supporters of the industry. For more information about partnership opportunities, please contact Tomai Morris on 07 3225 3015 or tmorris@propertycouncil.com.au.
Here are key industry experts you can connect with today: 
Russell Kennedy Lawyers is a market leader in the provision of legal services to the retirement village sector and has acted for many retirement village operators throughout Australia for more than 30 years.
Contact Rosemary Southgate, Principal on 03 9609 1555
Savant Energy Power Networks (SEPN) is a licensed retailer of electricity, gas and hot water specialising in multi-tenant facilities such as retirement villages and apartment complexes.  SEPN has a demonstrable history of success in the generation of significant revenue streams to retirement living operators through the operation and management of embedded power, embedded gas and hot water networks.  SEPN liaise closely with clients to design and implement these networks within their facilities, thereby providing discounted electricity, hot water and gas to residents and end-users.
SEPN, in partnership with Retirement Living Council, will engage with the retirement living sector in order to inform and educate its members with regard to the economic and operational benefits that may be harnessed by members and residents.  Energy is a complex and often emotive issue; in this regard, our verifiable expertise will serve to align SEPN as a trusted advisor to the sector.
Contact Darren Lines, Business Development Manager on 0427 635 149
ThomsonAdsett is a leading international architecture and design firm with studios throughout Australia and Asia.  Their flexible design thinking is reflected across a range of sectors including seniors living, education & communities, commercial, health, resorts & leisure and retail.  ThomsonAdsett are a team of highly experienced and well-connected designers, innovators and planners who work with you each step of the way to realise your current and future vision.
Contact Judy Martin, International SAGE Program Manager on 0437 649 672
Alison Quinn (President), Chief Executive Officer, RetireAustralia
Kirrily Lord, GM Operations and Legal Administration – Retirement Living, Stockland
Stig Andersen, CEO, IRT Communities
Tracy Dare, Group Executive Commercial Services, UCQ, Blue Care

Kevin McCoy, CEO Independent and Assisted Living, Australian Unity
Helen Emmerson, Chief Executive, Southern Cross Care (NSW & ACT)
Nikki Fisher, Chief Operating Officer, Ingenia Communities Group
John Ford, CEO, St Ives Retirement Living
Geoff Grady, Executive Director & Chief Executive Officer, Aveo Group
Graham Hobbs, Director, Living Choice Australia
Roger Kwok, Managing Director, Arcadia Group
Murray Boyte, Executive Chairman, Eureka Group Holdings
ML MacDonald, CEO, Masonic Care WA
Debbie McClure, Group Sales and Community Relations Manager, Ryman Healthcare
Jane Monk, CEO, Gannon Lifestyle Group
Stuart Nicolson, CEO, Folkestone Seniors Living
Nicholas Playoust, Executive Director, AEH Retirement Living
Tony Randello, Managing Director Retirement Living, Lendlease
The Retirement Living Council is delighted to officially welcome all former Retirement Village Association (RVA) life members as Property Council retirement living life members.
The induction of life members ensures that the RVA's proud history is appropriately respected within the industry's new home, and the contribution of individuals who have built the village sector up to its current scale and stature is honoured.
All life members will be welcome as guests at all future national retirement living events.
Property Council retirement living life members are:
Loretta Byers
Originally qualified as a Registered Nurse, Loretta moved into the retirement living industry in South Australia in the mid 1980s, educating the public and care services providers about the benefits of retirement villages, particularly serviced apartments.
From there she rose to the position of Executive Director and Managing Director at Co-operative Retirement Services, which had villages in four states and an asset value of approximately $470 million. In 2000 she became joint owner and director of Village Care Limited, an advisory management and marketing company. After overseeing that organisation's sale, she became a retirement living consultant in 2011.
Loretta served as Vice President, and then President, of the Retirement Village Association, and has served on numerous boards and committees, such as her chairing of the Aged Care Industry Australian Tax Office GST advisory group.
Ray Fitzgerald 
Ray is the co-founder, owner and chairman of St Ives Group in Western Australia, and was part of the original retirement committee formed out of the HIA in Perth in 1981.
Ray was instrumental in implementing the Pilot for Care Packages into retirement villages within his state. Care packages were previously unavailable to purchasers within a village and as the result of lobbying between Ray and Russell Halpern along with other key members of the local industry succeeded in convincing the Department of Health to implement the pilot program.
In partnership with Russell, Ray has developed St Ives Community Care, which services some 300-care package recipients.
Ray's efforts over more than 30 years were recognised by the Commonwealth when he was awarded an Order of Australia Medallion in recognition of his service to ageing Australians.
Jonathan Forster
After leaving university in England, Jonathan joined a London firm of Chartered Surveyors; Chesterton & Sons. In 1970 he was one of two employees sent to Melbourne by the firm to establish a presence in Australia; the brief was to invest some of the firm's capital into property development. In 1973 he founded Kane Constructions and is now Executive Chairman of the company, which employs 250 permanent staff and has an annual turnover in excess of $450m.
He is a past president and now Honorary Life Member of the Master Builders Association of Victoria. He is Managing Director of Balmoral Gardens Pty Ltd (the owner of Balmoral Gardens and Greenways Village retirement villages) and a former Director of Incolink (the Victorian Building Industry Redundancy Fund), OFM Investment Group Ltd (now Centuria Capital Ltd), the Over Fifties Mutual Friendly Society and Holmesglen Institute of TAFE, where he became Chairman.
Jonathan has had a long association with the retirement village industry and is a Past State and National President of the Retirement Village Association.
Russell Halpern 
Pat Hems 
In a career spanning over 35 years, Pat Hems has seen the retirement village industry grow from virtually a cottage business model to the regulated corporate industry it is today.
As President of the Retirement Village Association Victoria for several years and Board member of RVA Australia, Pat has made a substantial commitment to the industry and was honoured with RVA Lifetime Membership in 2011.
She has held senior positions with Lend Lease, ARC and Stockland and continues to add her contributions to the sector in her role as Sales Manager for Retirement Communities Australia.
Peter Inge 
Peter is the joint managing director of the Zig Inge Group which, before the sale of the business in 2007, was one of Australia's largest and longest running retirement village businesses.
He was president of the Retirement Villages Association of Victoria between 1995 and 1997, and president of the national RVA between 2001 and 2003. He was also the inaugural chairman of the National Accreditation Committee and was intrinsically involved in the introduction of retirement village accreditation.
In 2011, the Zig Inge Group repurchased one of their villages, Prospect Hill in Camberwell, Victoria, which Peter now runs with his wife Penny.
Derek McMillan
Derek is Chief Executive Officer – Independent & Assisted Living at Australian Unity, one of the country's largest village operators, being appointed to his current role in 2005.
He has been an active contributor to the sector's growth and development, first elected to the board of the Retirement Villages Association in 2007, and then becoming the inaugural President of the Property Council's national retirement living leadership group, the Retirement Living Council, in 2012.
Derek has also served as a director of Leading Age Services Australia (LASA), National Ageing Research Institute and Australian Centre for Health Research.
Bill Riddington
Bill has over 30 years experience in retirement village development, marketing and management. He has been a successful CEO/Managing Director of companies associated with the day to day management of villages. He was associated with the Retirement Village Association since its inception in 1988, going on to be the State President as well as serving a term as National President. He was awarded life membership in 2007.
Bill has been a member of the NSW Retirement Village Consultative Committee to the NSW State Government, as well as serving on the Housing Committee of the NSW Council on the Ageing.
He was a Special Advisor to the RSL Lifecare Board from 1997 until elected to the Board in 2001, becoming Deputy Chairman. He has served on various Board Committees, namely Strategic Planning and Development and the North Coast Advisory Committee.
Bill is also a licensed Real Estate Agent and Strata Manager. He was awarded the National Medal for Service in 2005 for over 15 years continuous Patrol Service at Queenscliff Surf Club.
Joan Stone
Joan is a current resident of Aveo Leabrook Lodge in Rostrevor, South Australia.
Joan has been a long-standing member of the South Australian residents association (SARVRA) for more than 17 years (president for 10 years).
She has been an industry leader, particularly in assisting resident relations in villages, as a consumer advocate but also in assisting with resident mediation.
Joan is considered to bring strength and balance in her views when assisting issues resolution between residents and operators and has been responsible for resolving a number of complex issues over the past decade.
Joan has been the resident member of the National Accreditation Committee for over five years.
Kim Teudt 
Kim is the General Manager – Acquisitions and Business Growth, Churches of Christ Care and has held executive management and leadership positions in the seniors living and care industry for more than 20 years.  During that time Kim has been responsible for the strategic management of a broad range of retirement villages, aged care services and healthy ageing programs and for five years provided strategic advice, advocacy and representation of the retirement living industry in Queensland while working for the industry body.
Kim is passionate about retirement living solutions for seniors advocating for industry growth, diversity and development where through innovation in design and operations deliver exceptional customer outcomes.  Promoting senior living communities that delivers customer choice, flexibility and integrated services in a continuum of care model that is pre-emptive and customer driven is where Kim finds the most rewarding examples of delivering a much better future for older Australians.
Kim is a Council Member of the Property Council of Australia (Qld Division) and is an active member of the Division Retirement Living Committee. Kim has also been committed to the Manager of the Year Award as a judge for several years.
We also posthumously recognise as life members:
Tony Baldwin
Averil Fink
Tom Galletta
Tom had represented the RVA on the NSW/ACT committee for 33 years and had been on the National Board for 10 years. He was president of the National Board between 2006 and 2008, acted as CEO of the RVA for a period between 2004 and 2006 and continued as a Director until its merger with the Property Council in 2012. Tom was a major contributor to the pioneering work of the industry and creation and growth of the RVA.
He had been a tireless worker advocating with governments at a Commonwealth and State level and in ensuring the Association had good research to back its case. In NSW for well over 5 years, Tom lobbied tirelessly to ensure the industry was not harmed by poor legislative outcomes.
Tom was involved in the early 1980's with the development of Kenilworth Gardens village in Bowral. Over the past decade he had overseen the development and operation of Woodlands in Sydney, which is greatly revered by the residents.
Peter Govan
A village owner at the time, Peter was appointed Manager of the RVA Victoria and Secretary of the newly formed national body, then known as the Australian Federation of Retirement Village Associations, in 1993, when they were both fledgling associations. Peter continued as national secretary until the RVA's first full-time CEO was appointed in 2001, and as Victorian Regional Manager until 2007, and was widely regarded as the glue that kept the association going as a constant point of reference for members, committees, governments and the public.